Orange Bulborb

Attacks

Eat pikmin

HP

150

Defense Lower

15
Orange bulborbs are, well, orange bulborbs. Unlike their adult counterparts (
Orange Bulborbs
) they are normally found awake while thier parents are asleep.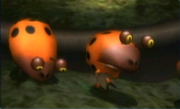 Camlopedia
Edit
Cam's notes
Edit
"Recolor and bad parenting. Just recolor. And bad. Parenting."
Des's notes
Edit
"Eats pikmin and bites captains. HP is 150 and Defence Lower is 15."
Ad blocker interference detected!
Wikia is a free-to-use site that makes money from advertising. We have a modified experience for viewers using ad blockers

Wikia is not accessible if you've made further modifications. Remove the custom ad blocker rule(s) and the page will load as expected.